Bolivia - dairy development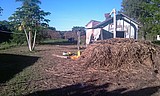 Project tittle: Dairy development - Bolivia
Project started up in 2013.
Purpose of the project is to setup a scheme that can increase the volume and quality of milk to local dairy company - ALSA, in Santa Cruz, Bolivia. By delivering equipment and setting up local knowhow and service center by Danish milking equipment supplier, SAC. This in a business scheme where farmers pay for the service and equipment, through the milk they deliver. Preparation phase has shown a potential for both equipment and knowhow to improve quality and volume of milk. Research show that the industries are ready to pay Bs. 3,00 per liter for premium quality milk. This leaves a space of Bs. 0,60 per liter to cover service, investment and increased profit for the farmers.
The business plan suggests an investment in a number of "farm packages" getting the farmers to reach a level to deliver premium quality milk. To get an attractive entry for the first farmers in the program and make the project feasible for the partners there will be applied for support from Implementation phase of the Danida Business Partnership program. The business plan is based on support on 50% from Danida during the first four years.
Farmers in the program will get increased yearly income on approx. 3,250 USD and will have a future potential to increase the produced volume. Also the new technology will be important to maintain the population and to attract young people to continue working on the farms. ALSA, and in future other dairy industries, will get additional volume of milk – at first stage approx. 2 mill litres per year. Additionally the program will make it possible to get integration and closer connection to the primary producers. SAC get an entry to the market with basic milking units and support to strengthen their local setup for sales and service. Company will get a possibility to establish their organisation and get a long term involvement in Bolivia. danishknowhow® is the administrators of the project and will setup organisation to be able to deliver consultancy services and training in Bolivia.